ChristenUnie houdt flyeractie Openbaar vervoer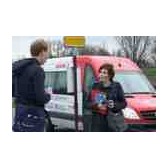 07-03-2008 21:50

07-03-2008 21:50
Vrijdag 7 maart was de actiedag OV in het land van Heusden en Altena. Samen met de ChristenUnie kiesverenigingen Aalburg en Werkendam werden flyers uitgedeeld aan chauffeurs en passagiers in het openbaar vervoer.
In de ochtendspits werden mensen aangesproken in Wijk en Aalburg op de Kromme Nol. Met name scholieren en studenten maken gebruik van de bussen naar Den Bosch en Waalwijk. Ook onder de grote groep fietsers die elke dag naar Waalwijk rijden werden folders uitgedeeld. Er werd positief gereageerd op de stelling dat naast experimenten met (gratis) openbaar vervoer in de grote steden ook verbeteringen in het landelijk gebied nodig zijn. Tijdens de actie viel het op dat het openbaar vervoer weinig wordt gebruikt voor Woon Werk verkeer.
Via internet of een kaart kan men suggesties en opmerkingen opsturen die de provinciale fractie van de ChristenUnie/SGP in wil brengen in het debat over het openbaar vervoer. Enkele opmerkingen die we vanmorgen opvingen zijn;
* De aansluiting van de bussen is vaak problematisch.
* Ik kan wel op mijn stageadres komen maar 's avonds niet met het openbaar vervoer terug komen.
* In de spits zitten de bussen overvol
* Ik zou wel met de bus naar school willen maar de tijden sluiten niet aan op mijn schooltijden.
* Bussen gaan maar één keer in het uur, als je net te laat bent kun je één uur wachten op de volgende bus.
Op de Tol langs de A27 in gemeente Werkendam is de gehele dag een team aanwezig geweest om flyers uit te delen aan de buspassagiers. Er was een ChristenUniecaravan aanwezig waar mensen terecht konden voor een warme kop koffie of wat fris. Hermen Vreugdenhil en de fractie van Werkendam spraken in de caravan met enkele chauffeurs over de knelpunten.
Dat vrijwel iedereen die vrijdag 7 maart via de tol reisde een flyer heeft gehad bleek wel aan het eind van de middag toen veel mensen die terugkeerden van werk of school 's-ochtends al een flyer hadden gehad. Er werden veel verhalen verteld over het reizen met het OV die Hermen Vreugdenhil mee zal nemen naar de Provinciale staten.
Tijdens de actie op de Tol en de Kromme Nol werkten de fracties van Aalburg en Werkendam samen. Er is het voornemen om in de toekomst nog meer onderwerpen samen op te pakken en onder de aandacht te brengen.
De fracttie van de ChristenUnie Aalburg zal tijdens de opinierende raad van 10 maart de actie ter sprake brengen en gelijk vragen naar de stand van zaken over voorzieningen bij de bushaltes in de kleine kernen. Begin 2007 is toegezegd dat deze spoedig zouden komen. De ChristenUnie wil graag weten hoelang het nog gaat duren.
Voor een sfeerimpressie vanuit de Tol in Werkendam klik op onze startpagina