Niet het aantal kamerleden maar de partij maakt het verschil voor Brabant!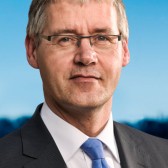 09-11-2010 18:38

09-11-2010 18:38
Commissaris van de Donk beklaagde zich van het weekend dat er te weinig Brabanders in de Tweede Kamer zitten. Dat zou de positie van Brabant schaden. Hij doelt daarbij op de aanpak van de Q-koorts waarvan de urgentie te laat in Den Haag doordrong en de cultuursubsidies die teveel in de Randstad neerslaan. De opmerkingen raken niet de kern van het vraagstuk. Niet het aantal regionale vertegenwoordigers bepalen de koers maar meer of partijen oog hebben voor de regio. En dan weet ik ons ChristenUnie-SGP geluid prima vertolkt door onze vertegenwoordigers in Den Haag. Of ze nou uit Zwolle, Amsterdam of Woerden komen.
Vandaag was weer een mooi voorbeeld. Arie Slob streed in de kamer voor het 'Duitse Lijntje'. Een oude spoorlijn tussen Veghel en Boxtel. Vanuit de regio is hier jarenlang voor gevochten. Ik ken menig CDA'er en VVD'er in Brabant die zich hier het vuur voor uit de sloffen heeft gelopen. Hoe zuur waren dan vandaag ook de vruchten toen juist datzelfde CDA en VVD in de Kamer het voorstel torpedeerden. Maar ook bij de Q-koorts uitbraak werd het debat vanaf de 'Blauwe stoelen' in Den Haag gevoerd terwijl Ernst Cramer, voormalig 2e kamerlid, de boeren en de burgers in Brabant opzocht en vanuit de praktijk constructieve voorstellen deed. Politiek naar mijn hart moet ik zeggen. Dan ben ik graag voor Brabant die verbindingslijn met Den Haag.
ChristenUnie en SGP zijn bij uitstek partijen die een polstok hebben die langer is dan de Randstad. Hier kan menig partij van leren. Als je je door de macht laat leiden dan is die ene vierkante kilometer in Den Haag het summum. Bedrijf je politiek voor de samenleving dan heb je ook oog voor die samenleving! En in dat verlengde schreef Carola Schouten, een voormalig Brabantse!, een mooie column op Opunie. Minder overheid meer samenleving. Ik ben het er helemaal mee eens. Daar moet Brabant ook zijn kracht uit halen. Laten we maar trots zijn op ons verenigingsleven. Op de saamhorigheid. Laten de politiek vooral investeren in en ruimte bieden voor die samenleving. Daar heb je meer aan dan mokken over Den Haag!
Hermen Vreugdenhil